Jutting off the western edge of Japan's main island of Honshu, where it is surrounded by water on three sides, Yamaguchi Prefecture is a seafood lover's paradise. One of the most notable local delicacies is fugu sashimi, blowfish that has been thinly sliced and beautifully arranged on a serving platter. Following the 1894 peace conference to end the First Sino-Japanese War, Japanese prime minister and Yamaguchi native, Ito Hirobumi, dined at Shunpanro in Shimonoseki with Li Hongzhan, the plenipotentiary representing the Qing Dynasty. So impressed by the wonderful flavor of the dish before him, Ito exclaimed, "This is delicious! What is it?" It was fugu sashimi. The skillful preparation that goes into extracting the edible portion from this poisonous fish has made this culinary marvel a cut above the rest.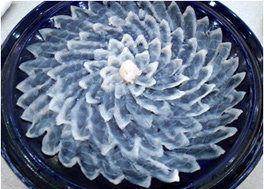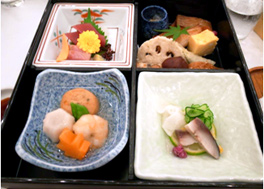 The Meiji Restoration would not have been possible without young political activists from Choshu (a feudal domain located within the area we now call Yamaguchi Prefecture). Arts and culture flowered here during the Ouchi dynasty of the 14th to 16th centuries. During this period farmers and others at the bottom of the social ladder learned to read and write, giving Choshu the highest literacy rate in the world. Dotted with private schools known a terakoya, and protected by a cavalry manned by the peasantry, Choshu nurtured a society ahead of its time. It was against this progressive backdrop that the young Turks of Choshu were reared. Choshu's age of reason continued to flourish in the shadow of the late Edo period intellectual giant, Yoshida Shoin. Although Shoin died young, the culture of Choshu lives on today and can perhaps serve as a shining beacon for the current prime minister, Shinzo Abe, in his quest to make Japan a country to be proud of.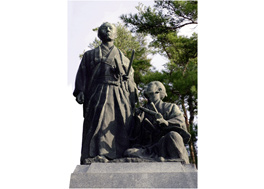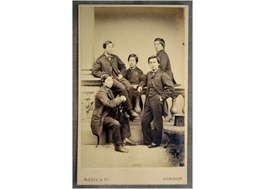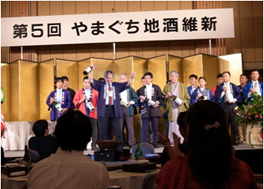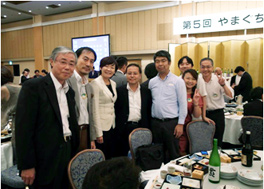 蔵元 kuramoto

酒蔵見学 shuzou inspection

ツアー/イベント tour/ivent
Maker's name.
Representative sake
Maker's name.
Representative sake
There is no tour to be held right now.