Maker's name
Representative sake
KOMASA JYOZO CO.,LTD
KOMASA JYOZO CO.,LTD

[shochu]

kozuru kuro(imo)
kozuru kikouji(imo)
Shochu ingredients

kome ・ mugi ・ imo

Representative

yoshifumi komasa

Address

3309 hioki hiyoshi-cyo, hioki-shi, Kagoshima

TEL

+81-99-292-3535

FAX

+81-99-292-5080

Foundation(year)

1883

E‐MAIL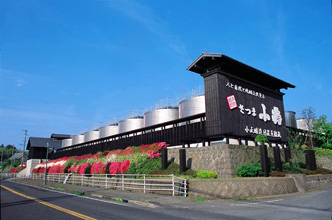 Tour information
Tour facility

KOMASA JYOZO CO.,LTD HIOKI DISTILLMENT

Address

3309 hioki hiyoshi-cyo, hioki-shi, Kagoshima

TEL

+81-99-292-3535

FAX

+81-99-292-5080

Tour contents

see brewery→watch video of making sake→tasting→sale of sake

Opening hours

9:00-16:00

Closing days

Saturday, Sunday, and a holiday Bon Festival Year-ends-and-New-Year-holidays vacation(※Good on Saturday, if it is a business day )

Tour fees (adults)

0yen

Tour fees (children)

0yen

Reservation

required / Please reserve by telephone.

Parking

Yes/About 10 cars or Motor coach About about two sets

Support for non-Japanese

【Guiding signs】 english:No chinese:No korean:No

【Audio guides】 english:No chinese:No korean:No

【Tour guides】 english:Yes chinese:No korean:No

Visitors per year

1,330people

Tasting

Yes

Shop

Yes

Others

I reserve the wheelchair.
Gallery
* Reproduction of information gained from search results is prohibited.